Goodridge 2013-2014 GT500 G-Stop Stainless Steel Brake Line Kit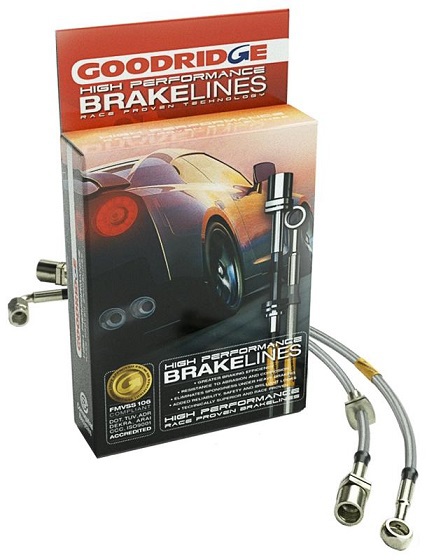 Goodridge 2013-2014 GT500 G-Stop Stainless Steel Brake Line Kit
Goodridge G-stop Stainless Steel Brake Line Kit – 2013-2014 Ford Mustang GT500 6-Piston Brembo brakes
Goodridge G-stop Stainless Steel Brake Line Kit – 2013-2014 Ford GT500
Stainless steel brake lines are one of the single best upgrades to your braking system possible.
Goodridge stainless steel braided brake lines have become the standard in professional motorsports where the ultimate in braking is required. There is no room for volumetric expansion, or "mushy brakes" caused by rubber lines. A highly efficient braking system allows you to get deeper into the corner and onto the accelerator faster.
Additionally, when G-Stop stainless steel brake hoses are used with an ABS braking system they virtually eliminate brake pedal "chatter" and significantly reduce stopping distance. The advantages of Goodridge G-Stop stainless steel brake lines are not only for the high performance vehicles; they are also a terrific performance enhancement and safety improvement on the "daily driver".
A reduction in braking distance during a panic stop can reduce the possibility of accidents and save lives. It's features like this that make Goodridge G-Stop stainless steel brake lines the most cost-effective safety improvement you can make on any vehicle. G-Stop stainless steel brake lines conform to all federal requirements of FMVSS106, making them D.O.T. Certified and T.U.V. Approved (Germany).
All Goodridge G-Stop stainless steel brake lines go through a 9-point Quality Assurance testing process including tensile strength and pressure testing to 3000 p.s.i. before leaving our facility. To ensure proper fit and easy installation, special end fittings and line brackets have been produced to fit identically to each vehicle.
Goodridge G-Stop Stainless Brakeline Kits – Feature:
Eliminate volumetric expansion

Reduces stopping distance

Virtually ends ABS pedal chatter

Corrosion and abrasion resistant

100% braided stainless steel

Brake lines exceed OE standards

Improved braking in wet weather

DOT Certified,T.U.V. approved

Limited lifetime warranty!