Your Vintage Build Experts
Whether you are attempting to build a class-legal vintage race car or a restomod for the street, CorteX Racing can provide you everything you need to get your vehicle moving and we can even build it too.
Our Process
At CorteX our goal is to guide each customer on their build journey. We offer free consulting sessions with our sales & engineering staff for all vintage customers who are interested in purchasing our products. During this consulting session, we will ask you a variety of detailed questions about your build to help guide your purchasing process and set you up for success. A few of the main topics we will discuss are: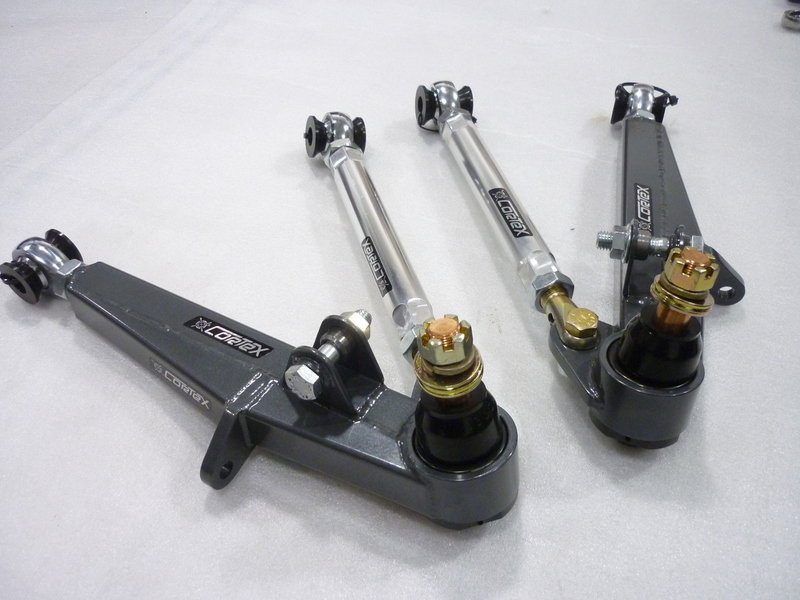 What is the primary goal/use of this vehicle?
What is the current state of the project (under construction, currently running, future project, etc)
What is the desired powertrain setup? Coyote, SBF, import, LS, etc.
What is the desired wheel & tire size for the build?
What parts do you currently have/intend on buying (Brakes, transmissions, fuel systems, wheels, steering, bodywork)
With this information, we can provide you with nearly turn-key solutions designed to work together. Having built dozens of cars in our own shop, with hundreds of kits shipped, we can confidently guide your purchase process to pick compatible parts and take the mystery out of modernizing vintage Ford Mustangs, Fairlanes, Falcons, Mavericks, & more.
We frequently provide far more beyond just suspension for most customers. Some examples of common products purchased as packages from us include
Front SLA suspension systems including shocks
Rear suspension system including our watts link, torque arm, & shocks
Complete brake systems including calipers, rotors, lines, pads, pedal boxes, master cylinders, & more
Complete drop-in rear axles including the housing, differential, axle, & spindles all properly modified to fit your desired wheel package
Wheels - we utilize advanced calculators & engineering software to correctly calculate the necessary wheel offset & backspacing for your desired wheel fitment. It is HIGHLY recommended that you order wheels from us when purchasing a suspension package. We work with a variety of manufacturers including Forgeline, Signature, Apex, & others.
Steering - including racks, columns, steering wheels, & more
Fuel Systems - drop-in fuel cells with all required pumps, pre-wired for your convenience
Engines & Transmissions - We work with a variety of engine & transmission providers and can ship you new, used, or built motors & transmissions
When completed, our goal is to be the one-stop shop to provide you with virtually all the running gear necessary to get your vehicle rolling. Beyond the above list, we have access to hundreds of brands and can provide you with nearly every single part of your build.
Shop Builds
In addition, to mail-order kits, we frequently bring customers' dreams to life. No project is too simple or difficult for us to tackle. We're happy to take your shell and turn it into a rolling chassis or complete the car from top-to-bottom providing you with a show-ready turn-key vehicle. We specialize in modern resto-mod builds and zero-compromise race car construction.
Proven Peace of Mind
CorteX started its life as a hard-core racing company, designing suspension systems & vehicles for the rigors of wheel-to-wheel racing. All of our products share this same DNA, providing you with the highest quality, strength, and reliability available to the vintage market. We believe in a no-corners-cut mentality. Our products reflect this mantra and as we assist you with your build, we will be able to carefully guide you through areas while balancing cost, your needs, and above all, your safety.
Roll with the X
We're excited to be a part of the journey of turning your classic into the car of your dreams. We continue to regularly support IMSA, HSR, SRO, & Trans Am teams across the country, providing staffing, products, and engineering services while also providing products & build services to enthusiasts around the world. We look forward to offering you the same level of excellent products & professional advice to help you accomplish your goals. Please give us a call at your convenience or emails us using the information below to schedule a strategy session.