Driveshaft Shop 2015-2022 Mustang GT 2000HP Rated Half Shaft - Right Side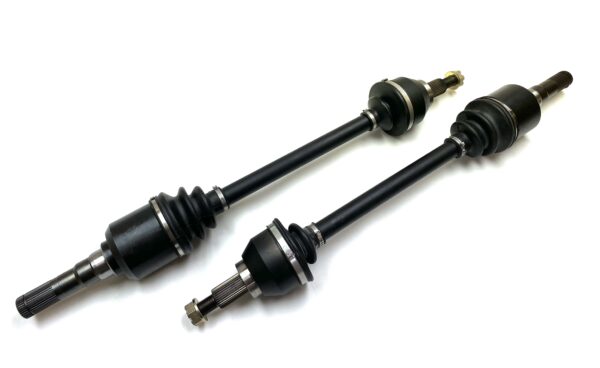 Driveshaft Shop 2015-2022 Mustang GT 2000HP Rated Half Shaft - Right Side
Introducing the new 2015+ Mustang 2000HP Rated Level 6 Direct-Fit Axles from The Driveshaft Shop.
The new Pro Level axles are a complete redesign with the intention to not only increase strength, but increase longevity as well. Starting with the new Chromoly Proprietary Ball & Cage Style Inner CV allowing for more support for the bearings and reducing overall wear. The outer CV is the new DSS 2-piece design, utilizing a 300M spline stub mated to DSS's new fixed outer CV housing. This eliminates the need for a bolt-on stub flange for the outer CV, and being a fixed (non-plunging) Outer CV design will allows DSS to increase the size on the internals for more strength and reduced wear.
In this case, bigger really is better. As always on DSS Pro-Level axles, 300M is used for the bars as it is the strongest, most torsional material, allowing for twist under load to decrease shock loads. And the axle bars are CNC rolled splines for optimal CV fitment and unparalleled strength. Designed for the highest HP street cars, race cars, and everything in between.