CorteX 2005-2014 Mustang Xtreme-Grip Complete Track Suspension System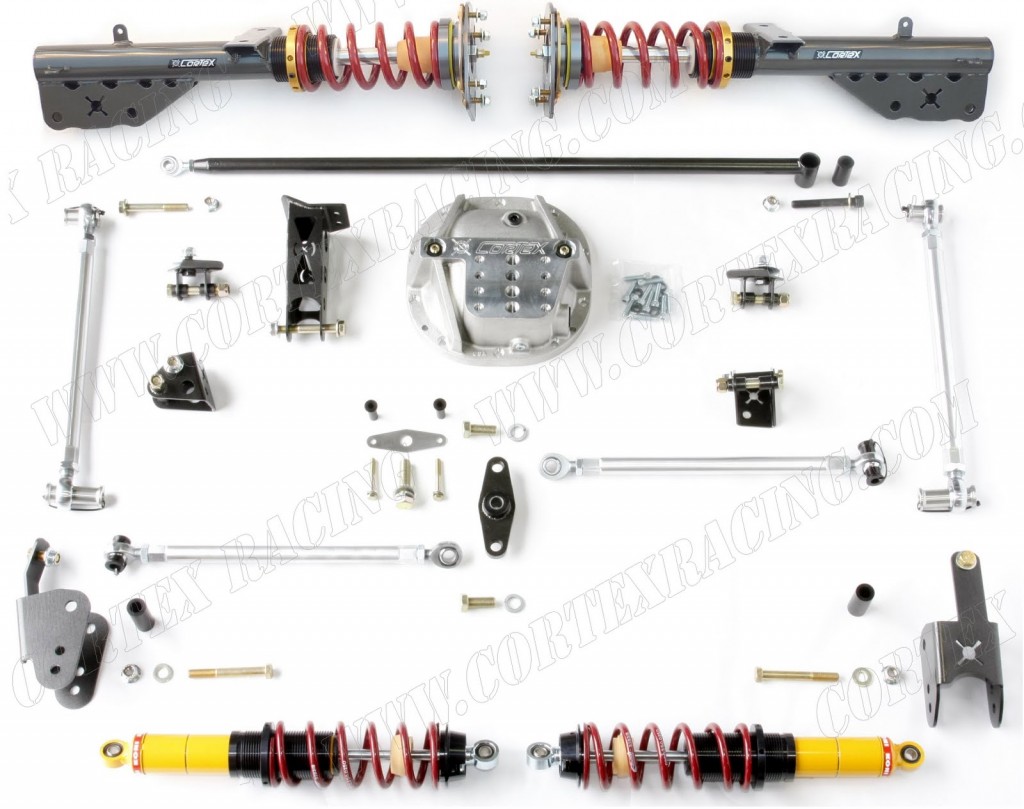 CorteX 2005-2014 Mustang Xtreme-Grip Complete Track Suspension System
CSS-40-1000
CorteX Xtreme-Grip Complete System
The Xtreme-Grip complete suspension system address all the major shortcomings of the S197 platform. CorteX updates the dampers and springs, adds a watts link to the rear, updates the rear suspension geometry to correct the geometry for lowered right height and adds front alignment capability.  Overall what you get is a chassis with a lot more mechanical grip that is better balanced for aggressive driving both on and off the track.
Xtreme-Grip S197 Track Suspension System Includes:
Koni Struts and Rear Coil over Shock with Springs – Kit comprised of single adjustable, "custom valved" Koni struts and Koni rear coilover dampers with matching springs suitable for track use. (other coil-over dampers optional)
Spring rates specified by CorteX Racing, but customizable to suit driving style and specific application. Optional offset strut housings allowing fitment of 18 x 10.5, 19 x 10.5, or 20 x 10.5 wheels and 315mm wide tires. (Double adjustable struts optional)
Caster/Camber plates allowing setting camber to at least -2.5 degree camber for track alignments
Bump stops – Struts include integrated bump stops
Rear lower control arm bracket set that optimizes suspension geometry at lowered rides height (2"+ lower than OEM).
Rear tubular lower control arms  come with heim joints at both ends and angle-correction spacers (Set).
Rear shock mounts rear upper and lower shock mount allowing fitment of 18 x 10.5 rear wheels and 315mm wide tires as standard.
Watts Link package – adjustable, lightweight, yet extremely durable.  The track version comes with heim joints throughout.
CorteX's revolutionary differential cover incorporates the watts pivot mount as well as provision for a differential cooler and temperature sensor.
Fast adjustment of the rear roll center has made balancing the car easier than ever.
Includes offset struts for additional tire clearance
The system is professionally engineered and tested in SCCA competition, this system will take you to the next level of performance.
We do not recommend using other manufacturer's K-members or Front Lower Control Arms with the Xtreme-Grip S197 Mustang Suspension Systems.  Although they may save weight, the light-duty K-member and LCAs have more deflection and are of a weaker design than the OEM Ford units.  Most of the weight can be saved by changing to aftermarket motor mounts and upgrading to the Boss 302S front lower control arms.
What makes the CorteX Xtreme-Grip™ Watts Link so effective?
Four possible pivot location points of the center pivot, which is the rotation center of the rear of the vehicle. Moving it up or down relative to the center of gravity of the vehicle allows the roll stiffness of the suspension to be changed. This enables balancing the front-to-rear grip of the vehicle so that the desired handling can be achieved.
The CorteX Watts link mod is an improvement over a panhard bar because it more closely approximates the vertical straight-line motion of the axle assembly allowing the vehicle to behave symmetrically in left and right-hand corners.
Unique Xtreme-Grip Watts Link System Features
Adjustable, lightweight, yet extremely durable.
Poly end link on the chassis to reduce NVH (noise)
A revolutionary differential cover, exclusive to CorteX
Incorporates watts pivot mount as well as provision for a differential cooler and temperature sensor.
Fast adjustment of the rear roll center
Makes balancing the car easier than ever
CorteX Custom Coilovers
Our Xtreme-Grip coil-overs have been designed for maintain bump travel even with the vehicle lower, both spring rates and valving has been carefully selected for competition.  We have done more testing that just about anyone with the S197 Mustang platform and have put together a variety of packages specifically tailored for everything from daily drivers to purpose built road race cars.

Our base Track system include single adjustable front struts with CorteX-valved Koni internals, and single adjustable rear CorteX-valved Koni eyelet style shocks.
Make sure to review the optional double adjustable front struts and rear damper upgrades, such as JRi, Penske, and Ohlins.
Our optional custom offset upgrade allows you to run 18 x 10.5 inch wheels and 315mm tires on all 4 corners.
Coilover Benefit: Adjustment
Lower the vehicle's centre of gravity
Adjust the ride height
Increase the roll stiffness of the vehicle
Reduce weight transfer in direction change
Adjust camber and caster angles (if compatible with adjustable top mounts)
This high degree of adjustment is what gives coilovers an advantage over typical MacPherson struts.