Maximum Motorsports 2005-2014 Mustang Caster Camber Plates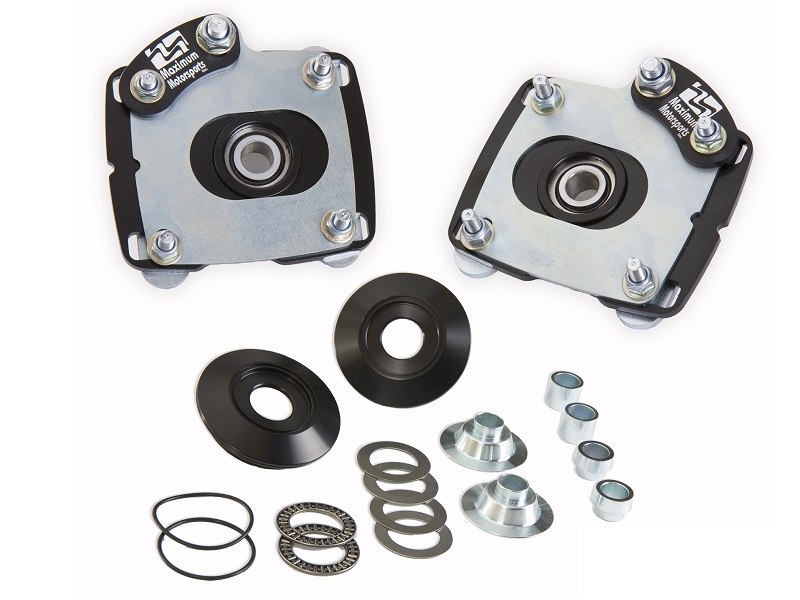 Maximum Motorsports 2005-2014 Mustang Caster Camber Plates
Camber Plate, Assembly, MM, 2005-2014 Mustang S197, set
Mustang Caster Camber Plates, 2011-2014, with 2.5 ID Coilover Springs
Caster Camber Plates provide the means to properly align your Mustang's front tires. Especially well-suited for lowered Mustangs. This innovative design provides the ability to adjust the camber setting of your Mustang's front tires. In stock form, the 2005-14 Mustang has no provision for camber or caster adjustment.
Fits
2005-2010 and also 2011-2014 S197 Mustang
Requires 2.5 inch ID coilover springs.  Will work with CorteX coilover struts, Eibach or similar.
Why do I need caster camber plates?
Lowering your Mustang will cause the top of the front tires to "lean in" towards the center of the car (increased negative camber). That may cause uneven tire wear.
Excessive negative camber can be easily corrected with the these Caster Camber Plates. Even an S197 Mustang lowered as much as 2.5 inches can still have the negative camber reduced enough to prevent uneven tire wear.
MM Caster Camber Plates provide the means to adjust the front alignment for improved performance. Increased negative camber provides more cornering grip.
Camber Adjustment
The ability to adjust camber allows the reduction of excessive negative camber caused by lowering. That will improve tire wear of a street-driven Mustang.
Camber may be adjusted to a much more negative setting to increase front grip when cornering.
Caster Adjustment
Caster Camber Plates provide a small range of adjustment for caster, which is otherwise not adjustable. While the S197 Mustang chassis was designed with a very suitable amount of positive caster for performance driving, it can benefit from fine-tuning the adjustment to reduce ill effects caused by production tolerances.
Construction
Main plate is laser-cut from high-grade alloy steel, not mild steel. The increased strength greatly reduces the possibility of bending.
Spherical bearing is custom made in the U.S.A.
Durable black powdercoat finish is standard.